I loved this book even before I bought it. I fell in love with the cover, to start with. It's so attractive I'm thinking of framing it and hanging it on the wall. It's the choice of the colours, their combination, the font used and how the text is distributed that is just smart.

When I started reading it, I was immediately hooked. The writing is clever and passionate. The author says she's a daydreamer and manages to pull you into her daydreams. It felt like she took me by hand and told me: "come with me, I'm going to show you something you've never seen before", and then she accompanied me along the river until she stopped, waved her magic wand, and all of a sudden the surroundings changed, the noise of the urban traffic had been replaced by people chattering around us, and even the smell was different, smokey.
I had travelled back in time and she was still there, being my trusted guide. I felt safe and full of enthusiasm with her. Then, she pointed at a muddy area and did another bit of magic: she made the dirty grey mud colourful, romantic and fun.
The river had come into life and with every discovery we found I felt like I was cutting out the middle man, such as a museum, because I had direct access to history.

It made me think that she already had the hobby of mudlarking well before she found out there was an actual name for it. It's just in her DNA.
My favourite story was the one of Cobden-Sanderson and the author's determination to find the types he had thrown into the river well before we were born. How fascinating.
Towards the end of the book, I realised I was reading as slow as possible because I didn't want it to finish. Indeed, I loved everything about this book and the only thing I didn't like was that it had to end.
When I eventually finished reading it, I felt like I was saying farewell to a friend. I miss her stories but I still think of them every time I walk along the river here in London.

In conclusion, this book is beautifully written, witty, informative and absolutely inspiring. I've not only read it, I felt it.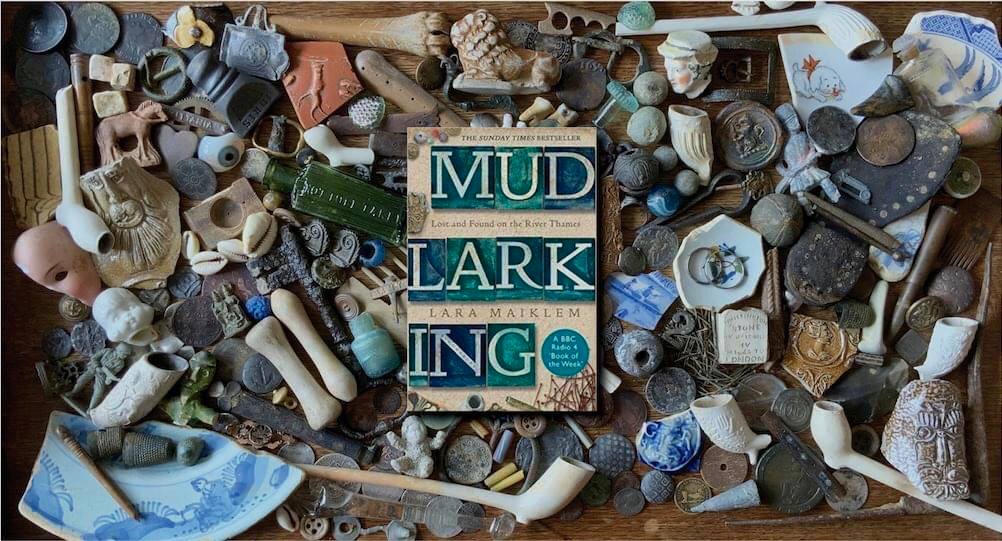 From Goodreads:
Long heralded as a city treasure herself, expert "mudlarker" Lara Maiklem is uniquely trained in the art of seeking. Tirelessly trekking across miles of the Thames' muddy shores, where others only see the detritus of city life, Maiklem unearths evidence of England's captivating, if sometimes murky, history—with some objects dating back to 43 AD, when London was but an outpost of the Roman Empire. From medieval mail worn by warriors on English battlefields to nineteenth-century glass marbles mass-produced for the nation's first soda bottles, Maiklem deduces the historical significance of these artifacts with the quirky enthusiasm and sharp-sightedness of a twenty-first century Sherlock Holmes.
Seamlessly interweaving reflections from her own life with meditations on the art of wandering, Maiklem ultimately delivers—for Anglophiles and history lovers alike—a memorable treatise on the objects we leave in our wake, and the stories they can reveal if only we take a moment to look.