The thing that I kept thinking when reading this book was "genial". I loved it even more than the first one of the series.
The characters were well revealed and their relationships felt realistic. The plot wasn't quite as believable as the previous one, I think because there are higher risks involved, but still, it was put together cleverly.
The English humour is just brilliant, I found myself laughing out loud many times while reading it.
In the previous book, I wasn't particularly impressed by the diary of Joyce, but this time it was so entertaining that I was looking forward to reading what she was thinking.
The absolute best part of this book is the dialogues. I think they emerge naturally and are developed in a way that the story unfolds in front of your eyes as you "listen" to the characters talk to each other.
Overall, I felt so amused that I'm sure I'm going to read the next one when it comes out.
Carry on Richard Osman, you're fantastically talented!
---
Some of my favourite quotes from the book:
"They say a man who desires revenge should dig two graves, and this is surely right".
"You are simply a little lost, Donna. And if one is never lost in life, then clearly one has never travelled anywhere interesting."
"People love to sleep, and yet they are so frightened of death."
"What if pretending to enjoy life is the same as actually enjoying it? He has been smiling from the moment Patrice arrived, so perhaps there was something in it."
"Some people in life, Sue, are weather forecasters, whereas other people are the weather itself."
I bet my hip wouldn't hurt so much in a book."
"I couldn't find her on Instagram. I couldn't even find her on Facebook, so she may very well be dead."
---
From Goodreads:
It's the following Thursday.
Elizabeth has received a letter from an old colleague, a man with whom she has a long history. He's made a big mistake, and he needs her help. His story involves stolen diamonds, a violent mobster, and a very real threat to his life.
As bodies start piling up, Elizabeth enlists Joyce, Ibrahim and Ron in the hunt for a ruthless murderer. And if they find the diamonds too? Well, wouldn't that be a bonus?
But this time they are up against an enemy who wouldn't bat an eyelid at knocking off four septuagenarians. Can The Thursday Murder Club find the killer (and the diamonds) before the killer finds them?
---
Title: The Man Who Died Twice (Thursday Murder Club, #2)
Author: Richard Osman
Year first published: 2021
---
My comment about the first
The Thursday Murder Club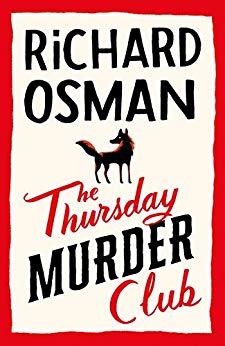 Do you think life gets flat when you get old? Not for this bunch of lively and passionate pals.
I loved the British humour, the red herrings and how human the characters were.
This is a witty and clever novel that will keep you entertained and make you wish you are old enough to move to their retirement village to join the fun!
---
From Goodreads:
In a peaceful retirement village, four unlikely friends meet weekly in the Jigsaw Room to discuss unsolved crimes; together they call themselves The Thursday Murder Club. Elizabeth, Joyce, Ibrahim and Ron might be pushing eighty but they still have a few tricks up their sleeves.

When a local developer is found dead with a mysterious photograph left next to the body, the Thursday Murder Club suddenly find themselves in the middle of their first live case. As the bodies begin to pile up, can our unorthodox but brilliant gang catch the killer, before it's too late?
---
Title: The Thursday Murder Club (Thursday Murder Club, #1)
Author: Richard Osman
Year first published: 2020